Simple and Planar.

Modern OS X. Glowing traffic lights, clean blue accents, purple: colors of the rainbow. Something easy to work with, but not straying too far from native; let's say that Aqua met Mary Jane.

UPDATES:

2.0.2
- Added to inactive and active states on windows (I don't know why I didn't add these before)
- Slightly improved aqua color and buttons
- Improved shadows in various places
- Added to description

2.0.1
- Updated for new version of Flavours!
- Changed traffic lights hover state
- Tweaked a few things

2.0.0.1
- Traffic light size and shape evened out

2.0
- Brightened and improved traffic lights
- Remodeled window background
- Slightly tweaked some colors
- Very slightly changed aqua button appearance
- Crab Apple :)

1.0.1.1
- I couldn't stand that there wasn't enough detail in the traffic lights. So I added more :)

1.0.1
- Added final touches to make traffic lights very close to perfect
- Changed selection color to purple ;)
- Improved metal buttons
- Heavily modified normal aqua buttons, MUCH better

1.0.0.4
- I think I have finally perfected the light color :)

1.0.0.3
- Changed lights to be more distinct
- Changed depth of a few things
Not positive if I love the lights as much as I'd like to. These will be improved over time.

1.0.0.2
- Slightly tweaked traffic light brightness

1.0.0.1
- Added to description
- Changed menu bar depth

1.0
- Initial publication
- This version was uploaded prematurely.. so there may be several updates early on

Any feedback, please email me at breburnyuf426@hotmail.com

Thanks for using and enjoy :)

Check out my other themes: Gumdrop, Leopart, Geode, Better Brushed, Blu, Brushed Blu, and Crouching Tiger! My themes tend to be always in development and could change rapidly… So please feel free to email me if you have feedback!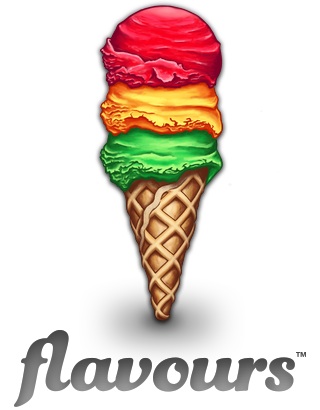 Tasteful Themes for Mac®
Flavours is a Mac application that allow users to
create, apply and share beautifully designed themes.