An original theme featuring simplistic, concave elements with dark shadows and glowing blue accents.

There's no other theme out there like this one. It's definitely unique. :)

* A whole new perception to OS X
* Embossed design
* Easy to see buttons
* Blue Shadow accent with glowing active buttons and tick marks
* Concave tab-style buttons, tabs, and menus
* Retina ready!

What happens when you mix both themes, Better Brushed and Blu? Look up Brushed Blu to find out :)

UPDATES:

2.1.1
- Finally feel comfortable with the metal buttons, and I can say this should be the final update for those :)
- Added engraved inactive states for window and bottom bar to match theme!
- Slightly changed traffic lights due to inactive window addition
- Slightly modified aqua buttons
- Enjoy!!

2.1.0.3
- Metal buttons tweaked

2.1.0.2
- Metal buttons slightly tweaked
- This may update a few more times to get it just right

2.1.0.1
- Fixed a few minor details on buttons

2.1
- Updated for new version of Flavours!
- Changed hover state of traffic lights
- Tweaked metal buttons
- Some changes made to reflect Brushed Blu
- Finally looks like it was designed to look!

2.0
- FINALLY, TRAFFIC LIGHTS! They light up :)
- Dramatically improved metal "blu" buttons
- Brought up-to-date with elements from other related themes
- Improved menu bar and Apple logo
- Slightly tweaked window background
- Added to description

1.0.1.1
- Added to description

1.0.1
- Changed menu shadow slightly
- Unchecked the option to theme close/min/max, since they were not modified. This allows the user to change from "Blue" to "Graphite" in System Preferences while still using the theme
- Added to description
- Other very minor adjustments

1.0
- Initial publication

Any feedback, please email me at breburnyuf426@hotmail.com

Thanks for using and enjoy :)

Check out my other themes: Leopart, Planar, Geode, Better Brushed, Brushed Blu and Crouching Tiger! My themes tend to be always in development and could change rapidly… So please feel free to email me if you have feedback!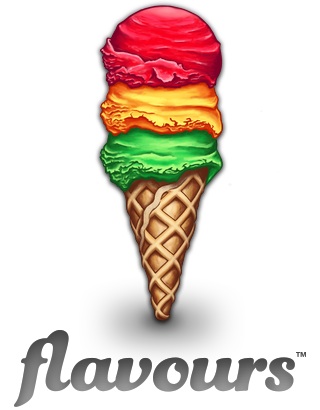 Tasteful Themes for Mac®
Flavours is a Mac application that allow users to
create, apply and share beautifully designed themes.