Derived from the theme "Brushed Times" by Nuno Grilo.

Heavily inspired by previous Mac OS X brushed versions of Finder while conserving similar current design qualities. Created and tweaked by a huge Apple fan.

What happens when you mix both themes, Better Brushed and Blu? Look up Brushed Blu to find out :)

OR, what happens when metal and rock clash? Geode! A new theme!

UPDATES:

3.1.0
Added to theme for new version of Flavours!
- Remodeled traffic lights… wasn't digging the previous version
- Hover state for traffic lights added
- Modified metal buttons slightly
- Modified and improved menu transparency
- Added inactive states to windows

3.0.1
- Changed traffic lights to better match theme
- Added to description

3.0
A big update!
- FINALLY, traffic lights!
- Menus are now metal!
- Slightly darker active blue color
- Improved Apple logo
- Slight window background color improvements
- Tuned up various elements and buttons to match newer themes
- Added to description

2.0.1.1
- Added to description

2.0.1
- Improved menu bar and selection depth… hopefully for the final time!
- Tweaked menus to a more favorable depth
- Changed description

After hours and days of experimenting and attention to detail, 2.0 is here! Virtually every part of this theme has been modified since the original.

2.0
- Completely changed brushed texture on windows for a cleaner appearance
- Metal makeover 2.0. These are some high class buttons!
- Made regular buttons look more prominent
- Other minor cosmetic changes

1.1.2
- Menu bar changed to a flatter appearance
- Improved and tweaked various colors and depth related to metal buttons for a more realistic feel
- Further improved menu selection color depth for menu bar and menus

1.1.1
- Menu bar transparency removed due to constant refreshing
- This also required improving menu bar depth and color
- Fixed some small annoying detail probably nobody even noticed ;)

1.1
- Shadows now more consistent on buttons
- Created Metal style tabs and buttons
- Improved menu selection color

1.0.1
- Improved color depth of buttons and progress bar
- Tweaked menu bar depth
- Changed menu bar select color to match brushed colors

Any feedback, please email breburnyuf426@hotmail.com

Enjoy and thanks for using! :)

Check out my other themes: Gumdrop, Leopart, Geode, Planar, Crouching Tiger, Brushed Blu and Blu! My themes tend to change rapidly… so expect many updates and improvements along the way.
Credit goes to author Nuno Grilo for previous theme this was derived from.
Window texture from http://webtreats.mysitemyway.com/8-tileable-metal-textures/
bluemetalbrushedoldglassTigerAquaglowpanthershadowreflection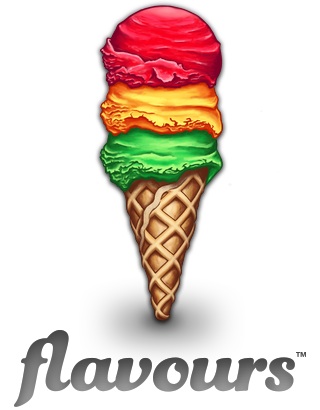 Tasteful Themes for Mac®
Flavours is a Mac application that allow users to
create, apply and share beautifully designed themes.